Kinney Mason is an innovative, technology-centered law firm offering litigation services to individual and business clients in Omaha, Nebraska. The firm focuses on using the latest communication applications to offer an unprecedented amount of service to its clients. The lawyers at Kinney Mason are actively engaged in a variety of practice areas, including divorce, business litigation, estate planning, corporate formation, privacy litigation, personal injury and general litigation.
Not your typical firm.
Driven by our desire to serve, bound by innovation – not tradition. We continue to redefine the way law is practiced.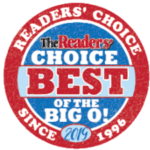 Recommended by the people of Omaha as one of the best Divorce law firms.
The law firm of Kinney Mason is an Omaha Readers' Choice law firm for the category of Divorce.